Ok guys, I did this project way back in early September, when Caleb started preschool and before I was pregnant. It took 3-4 days to do it all. I'm just now getting around to blogging about it because a) this hasn't been a very smooth pregnancy and it's just hard to get around to
anything
, and b) I finally have it furnished and decorated how I want it (mostly). Also, our camera is broken (the lens won't open??) so I finally just decided to use my phone. Forgive the quality of the pictures. You'd think I'd at least be able to edit them in photoshop since we get it for free through my hubby's work, but no. I don't know how. If you know of a good tutorial that will teach me the basics of photo editing with photoshop, send it my way!
Now, let me tell you how this went down. Ever since I built the
window seat
this room has felt so much more cozy and inviting.
Just for a fun little reference, this is what it looked like on the listing we saw when we were going to buy this house: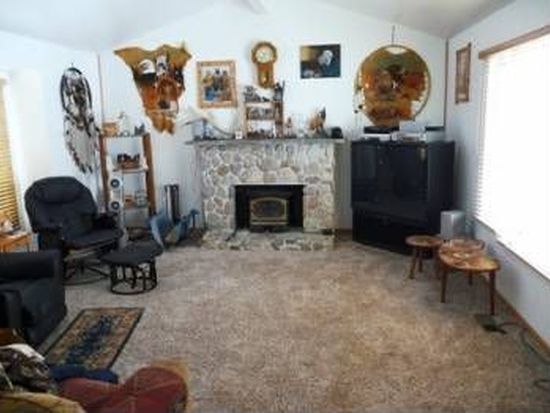 Yes, seriously.
This is how it looked on our home listing when we were going to sell our house last spring:
Yes, I do believe that I like my decorating tastes much better. ;) But to me, it was still lacking a little something.
It lacks no more! Let me tell you what I did to make it look like this:
The first thing I needed to do was decide on a paint color. You can't tell in the middle picture, but the walls were stained from dust and smoke accumulation (from the fireplace) behind all of the pictures that the former owners had on the walls. I wanted a nice, neutral "greige" (gray/beige). I found inspiration on pinterest and painted on samples of Revere Pewter and Analytical Gray, keeping in mind that this room gets tons of natural light. I ended up choosing Revere Pewter (it's slightly lighter than Analytical Gray) and had it mixed at Home Depot, even though it's a Benjamin Moore color. I left the bottom portion white, obviously, to make my job easier.
For the woodwork, I started with a little inspiration
here
and
here
and
here
. I took what I liked from these sources to get an idea of how I wanted the spacing and how fancy I wanted the trim to be. I didn't want it to feel too formal, because I wanted it to feel like it belongs with the rest of the house, so I decided on a plain board for the top. This is a pretty big room, so I didn't want to space the battens too close for fear that it would make it look too busy. I taped the battens up and decided that 19 inches from the middle of one board to the middle of the next was just right. I also didn't want the top to be any higher than the fireplace, and I had to be careful not to go too high to sort of cut the room in half (that would look a little funny). I settled on just shy of 48 inches for the total height, since the walls are 8 feet and the vault is 10'3".
I had to replace the baseboards, because the existing baseboards were that cheap, nasty fake oak. If I hadn't needed to do that, this project would have been much cheaper and faster! But I don't mind. I love beautiful baseboards and there's something satisfying about making a mitered cut (with an electric miter saw, of course...it would not be satisfying to do that many cuts by hand!). If you can use your existing baseboards, this project would require no mitered cuts! All straight cuts, which is less intimidating to many people. I wish I could remember the total cost of this project, but it's been too long...I want to say it was around $300? Worth it, in my mind!
To decrease the cost, I used MDF "Bender Board" as the battens, which is only a quarter inch thick and is 3-3/4" wide. It is the same thickness as the top of the baseboard, so it has a seamless appearance. The top board is a 1x4 primed trim board (which is actually only 3.5"x3/4"...why do they call that a 1x4?). It sticks out farther than the battens, but I prefer that rather than having the battens stick out farther than the baseboards. It's personal preference, I guess. But it was cheaper this way, which I'm a fan of. :)
Also, my walls are textured. I've seen people put some sort of board all along the bottom to hide the texture, but I didn't do that. I can see the texture when the light is shining on it just right, but it doesn't bother me one bit. Again, it's all personal preference, but I don't think it's worth it to go to the trouble and cost of putting a whole extra layer on your wall just to hide the texture. It still looks great if you don't do that!
After putting up the baseboards, I taped up the battens to make sure the spacing was right (I had to make a few minor adjustments to go around outlets--and I can promise you that no one will notice the imperfections). Then I nailed the top board on (making sure it was level) then nailed on all of the battens (making sure they were plumb). I had the battens cut for free at Home Depot, and that made my job so much easier. There were no gaps between any battens and the top board, because Home Depot's cutting machine is so much more accurate than if I had done it myself. I love that they offer that service! After everything was nailed in, I countersunk the nails and filled in and sanded the nail holes, then I calked all of the spaces. Calk makes a huge difference, friends. Huge. It's magical stuff. The calk also helped stabilize a few of the battens that were somewhat loose since very few of them got nailed into studs. Not a single one wiggles any more. ;) Then was the painstaking painting. Everything came primed white except for the battens, so I used primer on the battens and then I was able to paint everything with one coat of white. I used high gloss paint, because that's what makes woodwork look so fancy! It's also easier to clean, and dust is a big problem in my old house. :)
Here are some more shots of my new favorite room in the house!
That
shelf
in the corner was a free score that I refinished for $30. I have yet to dress the shelves (right now they hold the pictures that I don't know where to hang), but I think it'll be a great place to keep books.
This room is a great place to enjoy a good book!
Ah, I love that window seat!
When Nate works from home, he uses this
desk
. He hooks up his laptop to the extra screen and keeps a spare mouse, mouse pad, and keyboard in the drawer.
So, what do you think? I think I can imagine it in every room in my house!